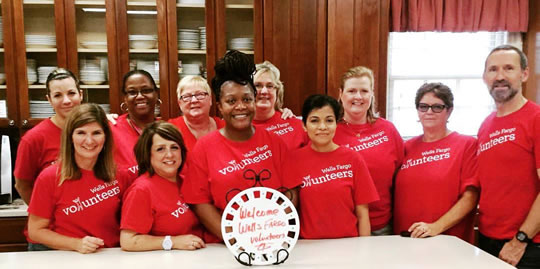 Volunteers are truly the heart and soul of a Ronald McDonald House. Should you choose to give some of your time and talents to the House, either on a regular basis or as a project, we are certain that it will be a memorable and rewarding experience..
We need your help with:
The child or parent who needs help during the most difficult time of their lives -- their own illness or the devastating illness of their child.
Making the House a functional yet pleasant and attractive place where the families can relax.
Making our House a "home" by adding little personal touches and helping as necessary.
As a volunteer at the Ronald McDonald House of Central Georgia, you have limited contact with children. The House is a haven for the families of the sick children. Since you will interact with individuals from all geographic, socio-economic and ethnic/racial backgrounds, you must be compassionate, responsible, flexible and most of all, able to have FUN!
Who can volunteer?
Individuals, Civic Groups, School Groups, Any Group! Candidates for volunteer positions must be sixteen years of age or older. There are some exceptions to the age restriction with volunteers who help with events, gardening, and other special programs. Volunteers span all ages and have varied backgrounds which is an advantage to our House. We will try to match skills and interests with the work and projects that need to be completed. Most importantly, we seek people who are eager to provide friendly, sincere support to our families.
What will I do as a volunteer?
Many services of volunteers are needed including: office assistance, greeting and hospitality, conducting House tours, house management assistance, seasonal clean-ups and fix-ups, gardening, staffing festival booths and exhibits, mailings, or fundraising. We'll make every effort to match you to an assignment with which you'll feel comfortable. To help you get off to a good start, we'll pair you with an experienced volunteer whenever possible.

We need all types of volunteers, but typically volunteers choose one of the following roles:
The heart of the House is our Volunteer program. The volunteers serve in many ways, helping to make the House a comfortable and supportive place for our families.
The caring and cheerful volunteers of the Ronald McDonald House of Central Georgia are the first voices that our families and donors hear on the telephone and the first smiling faces they see at the door. Whether its planning and coordinating a family activity, supplying and cooking a meal for the families through our Meal Program, being a part of our spring cleaning crew, or committing to volunteer on shifts each month, our volunteers help make this House a Home.
Below is a list of some duties that volunteers participate in at the House:
Greet and welcome families and visitors to the House

Answer phone calls from hospital personnel, families and visitors

Assist with mailings

Provide support for special events

Assist with clerical and data entry work

Help keep kitchen and public areas well organized and clean

Assist volunteer groups with the evening meal

Prepare guest rooms for the next family needing our assistance
Meal Program
It is a wonderful treat to have a meal on the table after a long and tiring day at the hospital. Learn more about our Meal Program.
Fundraising and Special Event Volunteers
On an occasional basis, we need volunteers to staff a booth at a local fair, set up a special function, stuff envelopes or serve on a benefit-planning committee. Contact the House Manager for a full list of activities.
Volunteer as a Group
The Ronald McDonald House of Central Georgia provides a Home Away From Home for families of children who are receiving treatment at area hospitals. If your organization is interested in doing a community service project, we have many opportunities for your and would love to have you! Projects vary from house maintenance or cleaning to grounds keeping. We know these don't seem too exciting, but they are abs0lutely essential to the comfort and support of our families.
We offer a variety of service opportunities for groups interested in volunteering at the House. Church groups, university students, high schools, office staffs and other organizations can perform group service for the House.
To ensure a safe and productive experience, student volunteers under the age of 18 years must be accompanied by one adult for every 6 students.
Some suggested group service opportunities include:
Meal Program
Baking cookies in our kitchen or yours
Coordinate a Donation Drive for the house by distributing copies of our "Wish List", collecting donated items and bringing them to the House.
How do I apply?
You can apply for a volunteer position either using our Volunteer Service Application (PDF) or online through VolunteerMatch.

You can also contact our House Manager by phone (478-746-4090) or email for more info on volunteer opportunities.
Meet Our Families